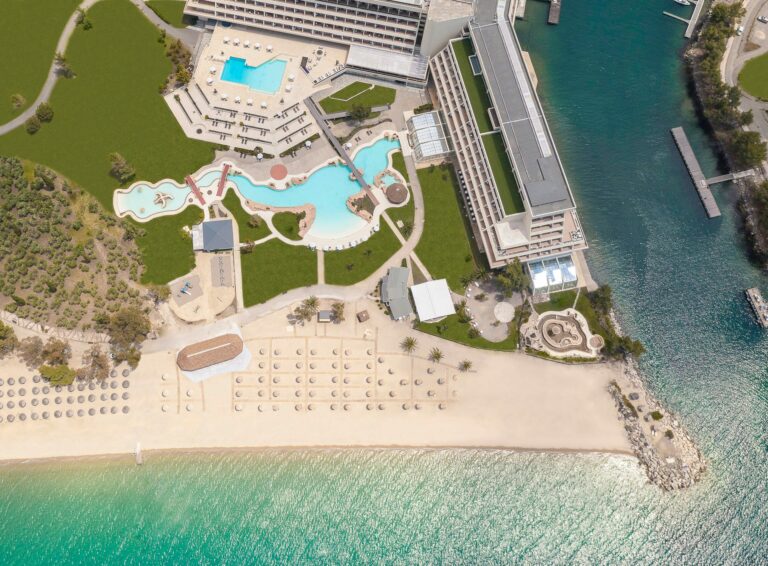 The administration of Porto Carras SA had a meeting with the Greek Minister of Tourism, Mr. Vassilis Kikilias, during which the development plan of the tourist complex in Sithonia Halkidiki was discussed.
According to information, the administration of Porto Carras informed the minister that at the end of this year's tourist season, in October, the development work of the complex will begin.
According to the article, the implementation of part of the Master Plan concerning the renovation of the SITHONIA hotel, with the aim of its operation in the summer of 2023. The hotel renovation plan includes the creation of a new type of rooms and suites with a private pool, new restaurants, and common areas, as well as the remodeling of the exterior spaces. The relevant studies have already been assigned to architectural offices and are expected to be completed by September.
At the same time, the company is proceeding with the development of part of the marina, with the work to be completed in the summer of 2024, as well as the upgrading of the golf and other sports facilities.
Information also states that at the same time, work begins on the development of the Domaine Porto Carras, which includes the regeneration of the vineyards and the renovation of the winery and the wine tasting room.
Thus, the first part of the Master Plan for the Porto Carras Grand Resort, which concerns already licensed areas, is going to be implemented immediately.
As the company's management reported to the Minister, the cost of this individual development is estimated at 55 million euros. The further development of the complex will proceed through the framework of Strategic Investments, which is the main objective of the company.
According to the same information at the meeting, the President and CEO, Artur Davidian, told the minister that the company's plans include the tourism promotion of Sithonia as a quality tourist destination and the promotion of local products and cultural activities through partnerships with local producers and agencies.
Finally, the parties had the opportunity to discuss issues of concern to the tourism industry such as the professional training and education of employees, the upgrading of the tourism product, the attraction of new markets in the Sithonia area, and the extension of the tourist season.
From the side of Porto Carras SA, the President, and CEO Artur Davidian, the Vice President and Director of Strategic Development Konstantinos Kanaras, and the Director of Legal and Corporate Affairs Athina Struza participated in the meeting with the minister.
Source: voria. gr